J SeJCH OtterCreek& Southpaw Jack of All Birds (Evert)
Evert is born on the 29th of May 2018 and is imported from US, from the breeder Brandon Sims – Otter Creek Farm & Kennel. Evert is a half brother to our Ray and is our second import from the US. Evert is a true versatile hunting dog, he has a great drive, capacity and endurance. He is equally skilled baying wild boar as an excellent bird dog and a retriever. He works with high speed and intensity regardless the type of grounds, he is a remarkable game finder who loves to work and hunt together with his handler. He is predator sharp dog and has high water passion. Simply incredible dog to hunt with!
Evert became the club champion in retrieving in 2019, not even two years old, like his sister Ray before him. Evert is one of our youngest Field Trial champions in Sweden, that qualified to the SeJCH title at only 2,5 years old, winning 4x 1st prizes in 5 trials. He was also nominated the Best FT Performance 2020 by the Swedish Weimaraner Club.
This season he continues to impress by delivering a full score in the retrieving test 10-10-10 and winning the SKF 25 Anniversary Field trial and CACIT with amazing 9/10 points in the field and 10/10 in retrieving! Evert is the first Weimaraner to win a CACIT in Sweden.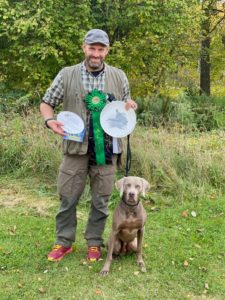 CACIT and trial winner at SKF 25 Anniversary Field Trial
Swedish Field Trial Champion at 2,5 years old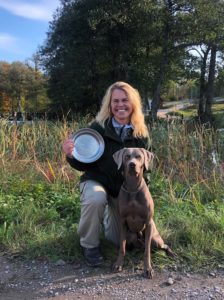 HD A
J, SeJCH- Swedish Field Trial champion, 2:a prize FT Youth Class, 2x 1:a prize FT Open Class, 2x 1:a prize FT Elite Class
2x 1:a prize blood tracking open class
Club champion 2019 in retrieving
Best FT Performance 2020
CACIT, Trial winner SKF 25 Anniversary trial, (9/10 field, 10/10 retrieve in elite class)