C.I.T (ec) C.I.B C.I.B.T J SE JCH SE UCH SE VCH EE CH FI CH Snaiper's Luke
3rd Excellent Int Field Trials, winner of inoff. St. Hubertus hunting trial 2015 Sweden
2009-08-06 – 2021-02-09
Luke is our cool guy with a strong self confidence, his ability to adapt to any new situation and environment is remarkable. Luke has an exceptional hunting passion with very strong prey drive, he also has a kind and lovely personality. He is a powerful, high speed hunting machine!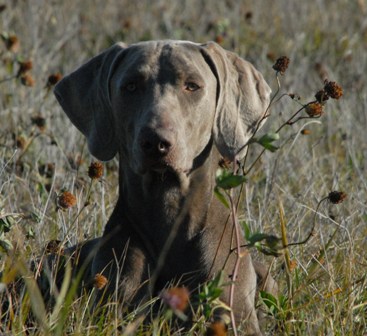 Luke is the first Weimaraner in the world to be awarded the titel C.I.T (ec) – International Hunting Champion (multi hunting test) and the first to enter Europa Cup in the Swedish national team of Continental Pointers. Luke is also one of the (currently) two Weimaraners in the world to hold the title C.I.B.T (combined titel for dogs that hold both international title for Working champion and Beauty champion)
Luke fulfills the breeding requirements worldwide. He has two litters in Sweden and three in Finland. 
HD A1
DNA stored in Weimaraner-biobank in Germany
WG1/WF1, BPH character tested
C.I.T International Working Champion, Hunting Test
C.I.B International Beauty Champion
C.I.B.T (combined title for dogs that hold both titles – International Beauty Champion and International Working Champion)
SE UCH Swedish Show champion
SE JCH Swedish Field Trial champion
SE VCH, Swedish Blood Tracking champion
EE CH Estonian Show champion
FI CH Finnish Show champion
I:a prize VGP 404/412 points, CACIT – International multi hunting test in Austria 2014, winner of the test
I:a prize BICP 32/32 poäng, CACIT – International practical hunting test in France 2015, winner of the test
2 x Excellent International Field Trials, Polen 2015
Winner of the inoff St. Hubertus hunting trial, Sweden 2015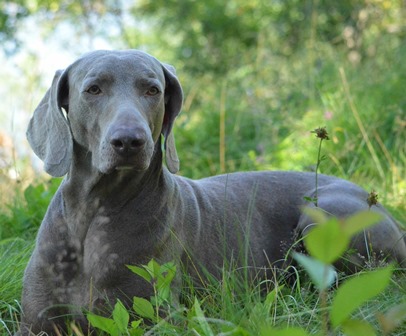 News
The German Weimaraner Club has made an exception for three non German males for breeding with 3 litters each. Luke is one of the three European males that are approved in breeding program in Germany.
Trials
VGP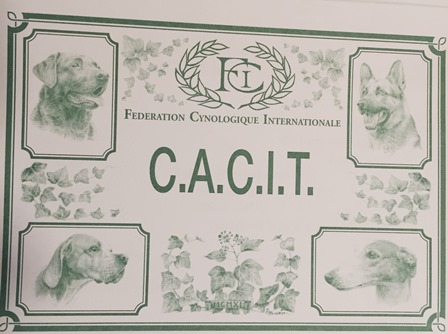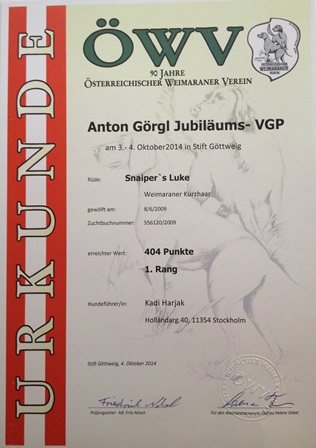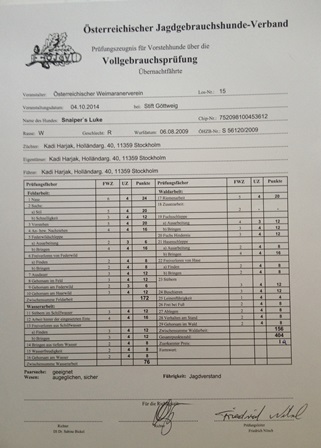 BICP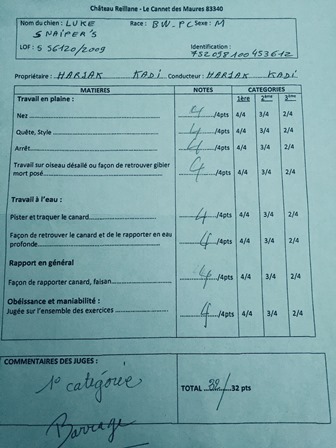 Coppa Europa 2016, Serbia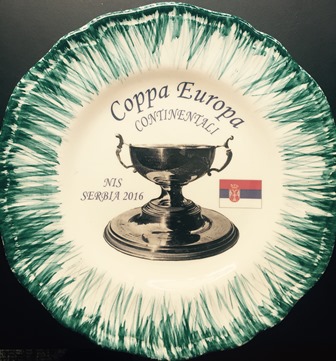 Gallery